F1-1200-6 <1%RH Dry Cabinet
1250L Ultra Low Dry Cabinet <1%RH
Description:
F1 ultra low humidity dry cabinet is specially designed for moisture sensitive devices(MSD) of level 4,5,5A,or 6. The MSD concept is defined by IPC association who published regulation of JEDEC JSTD-033C. The F1 dry cabinet maintains internal humidity level 1%RH and is ideal for moisture-proof and anti-oxidation storage applications, avoiding corrosion, mold and deterioration for stored component parts or material such as precision metal parts, miniature devices, pharmaceutical substance, biotic specimens, battery, crystal, IC package module, optical lens, IC package, MSD, MBB, PCB or scientific precision instruments…etc.
Customized dry box service are also available like Tape feeder cabinet and Tape reel storage cabinet.
Slide drawer option: Slide-Drawers

High Precision LED Display Control Panel

◎Simultaneously display temperature & humidity values
◎RS-232 port for data collection
◎Display Precision:±2%RH;±1℃ (at <10%RH, 25℃ )
◎Built-in flash & buzzer alarm
Colorful Storage Bins(Optional)
◎Inside bin: store and retrieve important items quickly to shorten the door opening time.
◎Outside bin: put in ISO documents such as work sheet or quality instructions for better QA management.
◎Maximum loading of bin: 5Kgs
Excellent Airtight Cabinet Body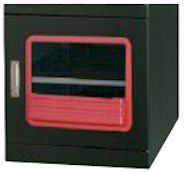 ◎Reinforced glass window
◎Antistatic 3" wheels
◎Antistatic colorful window frame
◎Adjustable levelers
◎Unique steel structure design for excellent air tightness
Reliable Dehumidifier made of PPS material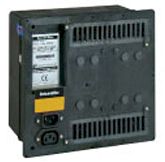 ◎PPS material: 230°C heat tolerance to avoid any deforming or melting of dehumidifiers
◎Modular design for easy maintenance & painless upgrade
◎Silent , drip less, frostless operation
Adjustable Shelves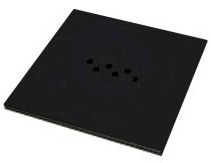 ◎Shelves can be flexibly installed in any position.
Model
F1-1200-6 <1%RH ±1%RH Dry Cabinet
F1-600, <1%RH ±1%RH Dry Cabinet
Product Image
Link (to):
F1-1200-6
F1-600
Temperature & Humidity range
<1%RH ±1%RH
<1%RH ±1%RH
Precision
±2%RH;±1℃ (at <10%RH, 25℃ )
±2%RH;±1℃ (at <10%RH, 25℃ )
Recovery time (Open door 30 secs)
Open door 30 seconds and close, 15 mins recovery time to
<5%RH, 30 mins recovery time to <2%RH
Open door 30 seconds and close, 15 mins recovery time to
<5%RH, 20 mins recovery time to <2%RH
Voltage
110V/230V
110V/230V
External dimensions (mm)
W1200*D672*H1820
W600*D672*H1820
Internal dimensions (mm)
W1198*D644*H1618
W598*D644*H1618
Shelf dimensions (mm)
W1155*D530*H20
W555*D530*H20
Capacity
1250L
624L
No. of Shelf
5
5
Power consumption
Ave. 135Wh
Max. 425W
Ave. 83Wh
Max. 285W