YES-ÉcoClean
Download (information): YES-Eco Clean
Creating advanced solutions for present and next-generation technologies, the YES-ÉcoClean system offers engineers flexibility and reliability for (up to 200mm wafers) with:
Controlled strip rate – 100-100,000 Å/min (0.01 – 10 um/min)
High throughput – up to 65 wph process
Small footprint with single chamber
No defects or damage due to ICP Downstream Plasma
R&D to high volume production with minimal downtime
Eco-friendly "Green" process
Applications:
Photoresist removal
PR descum
Polyimide removal
Organics removal
Copper oxide removal
Yield Engineering Systems (YES) has designed the YES-ÉcoClean as a high throughput, low-cost of ownership, single-wafer photoresist removal system.   The ICP remote source generates
atomic oxygen which chemically reacts with the photoresist of the wafer surface. By employing a downstream resist strip process, high removal rate is achieved with no electrical damage or defects to the substrates and devices. YES-ÉcoClean offers automated processing with low gas usage and eco-friendly "green" solution.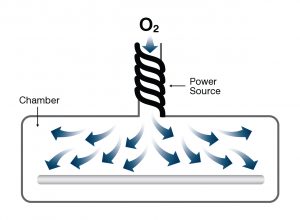 The inductivly-coupled plasma source produces a high-density plasma that creates reactive species which flow out of the plasma chamber and down to the wafer vacuum chamber.  One of the features of a remote plasma source is that charged plasma species are confined within the plasma chamber and only charge-neutral species flow from the source and interact with the substrate.  Data collected from the YES-ÉcoClean shows little or no change in electrical characteristics on the monitors used in the tests. 
The YES-ÉcoClean includes 2 standard mass flow controllers (3rd forming gas MFC-optional), and a 3,000 watt power source.  The heated wafer chuck can be operated from 75º to 300ºC.
Throughout the history of the semiconductor industry, devices have become more and more complex.  However, with each additional layer in a device, there is a common need to apply, image and finally remove a pattern in a layer of photoresist.  Today, devices may have upwards of 50 masking steps.  It is imperative to have fast, reliable equipment for the lithography area.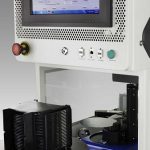 There isn't a viable solution in today's market.  Systems are old and being sold for a high price on the used market.  Parts are obsolete and no longer for sale.  The YES-ÉcoClean is the solution for this ongoing problem.
Also, in today's world we must all do our part in creating "green" solutions for all our requirements. YES-ÉcoClean uses oxygen and nitrogen instead of gallons of chemicals and water. We believe in technology moving forward without the sacrifice of nature.YES-ÉcoClean is twice the speed and half the cost of the current options on the market. Engineers have been looking for an answer.  The answer is YES.