PRODUCT OVERVIEW
Download (brochure): YES-PB Series Brochure
Process Management Software (option)
Stainless Steel Process Cassettes (accessories)
NOTICE – Effective January 1, 2021 – Yield Engineering Systems will discontinue support for the YES-PB6 Vacuum Cure Oven.
The YES-PB Series manual load high temperature cure oven is designed for today's most advanced MEMS and semiconductor process applications. Whether it's for proper curing of polyimide in Wafer-level Packaging (WLP)/ Redistribution layers (RDL) applications or annealing copper in an advanced semiconductor device, the YES-PB Series helps achieve total environmental control to increase yields and extend device performance.
Applications
Low temp polymers cure
Copper oxide removal
Aluminum anneal
Critical steps in any cure process include complete removal of residual solvents, uniform temperature distribution, pressure control, ability to maintain dry inert atmosphere, and control of heating and cooling rates. YES ovens achieve this plus particle reduction in most applications
Chamber Exhaust Condensate Trap
Solvent vapor that evaporates from wafer films during the cure process condenses as soon as the process gas cools. If condensation is not controlled, condensable process effluents can plug vacuum lines, affect control valve operation and degrade the performance of vacuum pumps. YES-PB Series tools use a coalescing condensate trap assembly to control the accumulation and disposal of solvent condensates.
Laminar Flow Technology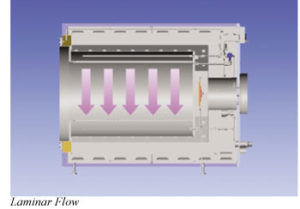 YES high temperature vacuum cure ovens offer vertical laminar airflow paired with a unique cooling package to cool the chamber. The vertical laminar flow carries particulates away so they won't deposit onto wafers. Directing the airflow so it streams from the top of the system and out the bottom ensures there's no air turbulence, allowing particle reduction in most applications.
Unique Cooling Package
The YES-PB Series cooling package allows for faster chamber cooling times as well as temperature uniformity control throughout the process. Air mixing ratio for chamber cooling can be manually adjusted for best performance over a broad range of operating temperatures.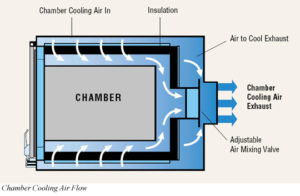 The design allows the process engineer total control of ramp down rates within the tool's specifications. The cooling package only uses air, no water.
YES-PB Series is designed to achieve tight control over your process conditions:
Uniform solvent evaporation with laminar flow and reduced process pressures.
Efficient evolving of solvents from the film allows better control of imidization rates.
Controlled temperature ramp up and cool down
Extremely low oxygen process concentrations due to a dry inert ambient
Vertical laminar flow for increased particle isolation and removal (for most cure processes, average particle addition is calculated to be < 0)
A touch screen interface enables the process be fully automated.
The YES-PB Series ovens provide the process conditions required for proper curing of the polyimide layer.  Read full WLP whitepaper here.